As part of our focus on continuous improvement, efficiency and optimisation of our production processes, Kingston Engineering have invested in the purchase of a top class machine tool from Leistritz, a brand well known world wide. Leistritz from Nuremburg Germany (www.leistritz.com) is the international leader in the high speed production of internal and external threads and also in the production of special profiles.
This Leistritz LWN 160.6000 is an external whirling machine which will facilitate the production of Trapezoidal or Acme thread lead screws, custom threads and Ball Screws at Kingston Engineering. The purchase of this machine has been necessary to cope with rising demand requiring shorter delivery without compromising product quality.
The most important technical features of this machine tool include the following:
Short cycle times because of high chip volume.
Capable of machining shafts with diameters from 15mm up to 120mm.
9 CNC axis of which 4 are for bar support, each able to work independently.
Siemens control – 840D
Tail-stock on CNC axis – removable with reference points.
Remote diagnosis and production control guarantee trouble free production.
Track finding and pitch measuring system with auto resume of the thread machining point by Marposs system probe. This prevents unsightly and difficult imperfections and the possibility of pitch error which can be difficult for the correct assembly of the lead screw with the nut.
Angular tolerance of the arbor +/- 0,01 deg.
Positioning accuracy X axis and Z axis < 0,002 mm.
High structural stiffness of the machine over its whole length enabling high stock removal in one cut.
The motor drive is directly connected to the whirling rings enabling great power and cutting efficiency.
Automatic lubrication of all guide ways.
Emulsion free cutting system with Air Cooling Gun guarantees that the lead screws are not overheated by the manufacturing process and deformation is avoided.
Whirling rings with 4 or 6 holders for tungsten carbide insert (roughing/finishing/chamfering) which allows the processing of mild, alloy and highly alloyed steel including stainless.
External pre-setting of the Whirling rings and the system of locating the rings into the whirling head allows the fast changeover of tooling.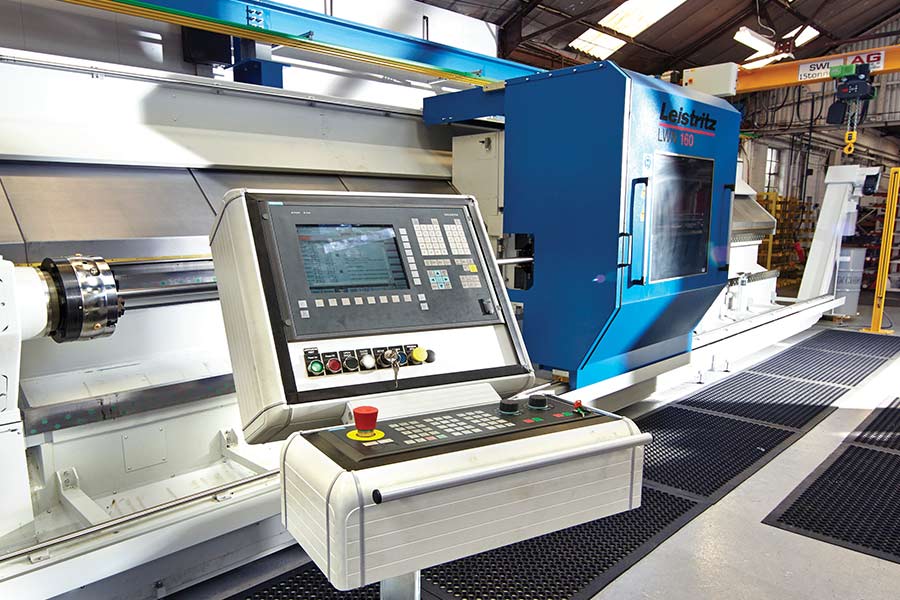 The thread surface achievable goes from 0.02 Ra with a new insert to 0.08 Ra with a re-ground insert. These values are similar to a grinding machine.
The purchase of this machine tool guarantees higher precision and higher speed production of lead screws with both right and left hand threads or multiple start threads.
The purchase of this Leistritz LWN 160.6000 thread whirling machine represents a very important milestone for Kingston Engineering. It demonstrates our desire to invest in the very latest and most advanced metal cutting technology. It will enable us to produce the highest quality lead screws for our customers and to develop new markets.